Altitude world record for motorized vehicles
Q-Jean's founder Mike Bosetti was a participant in the expedition.
An endurance test for the Q-Jeans Outback Extreme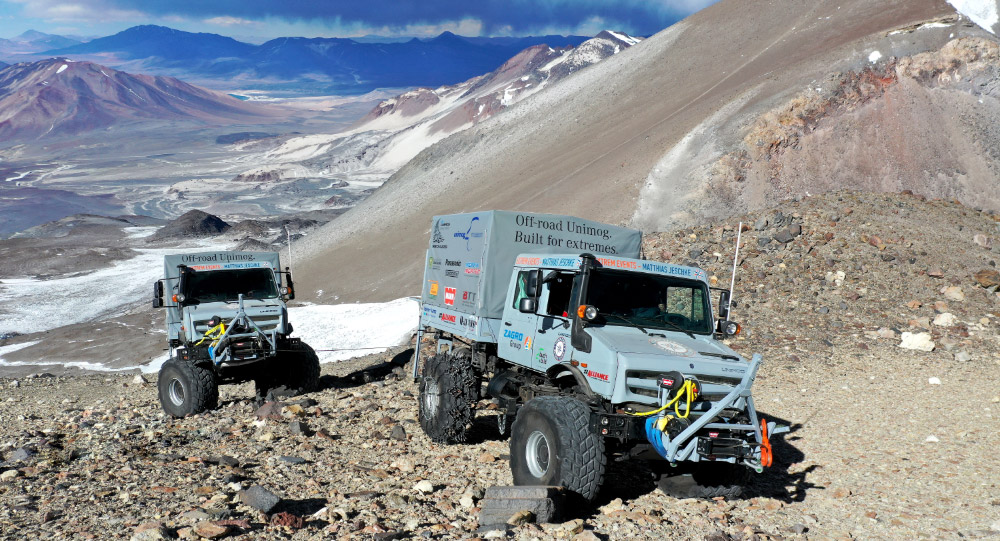 As far as you can see, only desert, penitential ice fields  and rocks. Icy temperatures and a wind with the finest volcanic sand blow around the barren landscape. No sound from civilization can be heard here – usually. Not so in December 2019 – the sound of two truck diesel engines mixes into the background noise controlled by natural forces.

When others go on holiday, Matthias Jeschke's team fights it's way to the heights of the Andes with two Unimogs. For weeks, they expose themselves to the most adverse conditions in the vast area and extreme heights of the Atacama Desert. With two goals – improvement of the rescue infrastructure at the Ojos del Salado volcano and the altitude world record for motorized wheeled vehicles.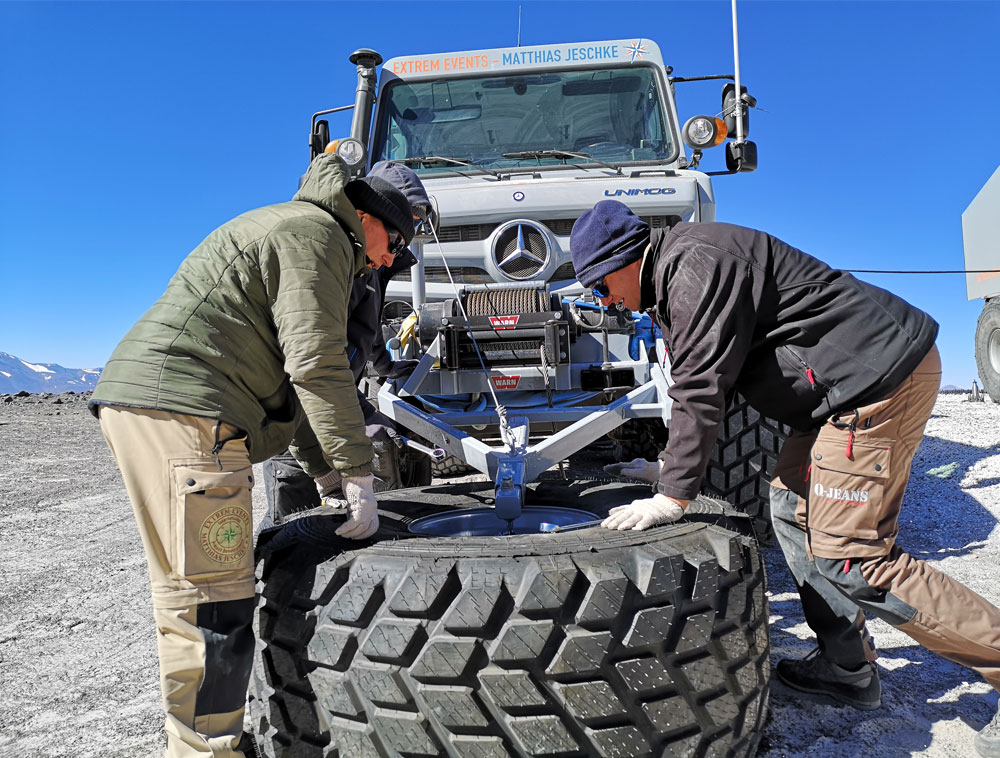 Already in 2017, the Extreme Events Team tried to set the world record, but the group had to withdraw from the mountain for the time being. In December 2019, the team started the trial again. Founder and CEO Michael "Mike" Bosetti is himself a partner and participant of this elaborate expedition, so it was obvious – as in 2017 – to equip the team with the two outdoor trouser types "Q-Jeans® Outback Classic and Extreme" for extreme use. Because the Outback series is designed for exactly such conditions – robust, wind-repellent, thermally insulating and the Outback Extreme is also water-repellent.

Best conditions to tackle the altitude world record.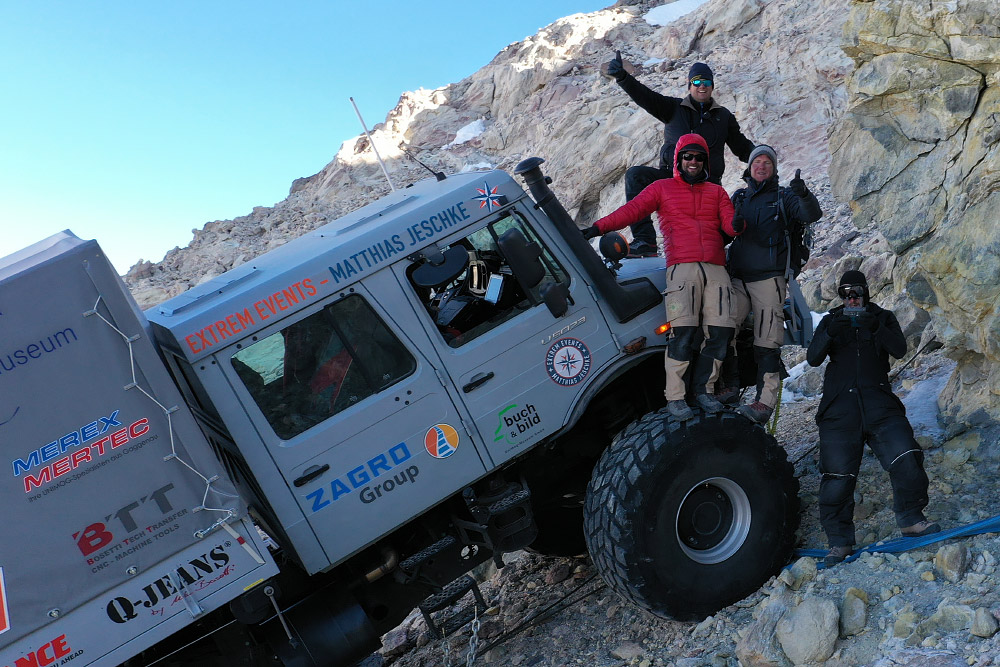 And indeed, on Friday, Dec. 13, 2019, the Extreme Events Team succeeded in setting a new altitude world record for trucks after 2014. And what's more: with one of the Unimogs, a new brand with the absolute world altitude record for all motorized vehicles has been set at 6,694 m.

No other vehicle in the world has driven higher than the Unimog U 5023 on 13.12.2019 at the Ojos del Salado in Chile!

On the expedition, emergency radio stations for mountaineers were also set up at four mountain huts. These are intended to improve safety on the mountain in the future.
---
High Altitude Truck Expedition 2019 - 1/3
---
High Altitude Truck Expedition 2019 - 2/3
---
High Altitude Truck Expedition 2019 - 3/3
---
An interview excerpt with Mike Bosetti and Andrea Strauß
Mike Bosetti and his wife Andrea Strauss were both the oldest participants in the expedition. We have put together a small interview with the two of them for you
You don't just decide to go on such an expedition at breakfast. How did you get involved?
Mike:
How do I formulate this in a nutshell?
We were already on the expedition in 2017. That was in principle the cornerstone for participation in 2019. Years ago we were at a lecture by Matthias about one of his first altitude records (note. The editors. Matthias Jeschke, CEO Extreme Events, the expedition leader). That's how we got to know each other. Matthias then asked in 2017 if we would like to participate in the expedition. In 2017 for various reasons, we had to abort at an altitude of 6100 m. When we left, Matthias was not happy and said: "I'll be back".
So it was clear to you that you would participate again?
Mike:
Yes of course. Matthias looked for a new vehicle partner. Daimler Benz with the Unimog brand quickly agreed to participate.
And Matthias Jeschke then asked you if you wanted to dare it again?
Andrea:
Matthias and Alex signaled to us very early on, that they would definitely like us to join them again.
So you were with the 1st choice?
Mike:
(grins mischievously) Yes, you can say that. Matthias of course wanted experienced and proven expedition participants.
(Quote Matthias Jeschke: Mike and Andrea have already been extremely involved in the 2017 expedition. Both were last man/woman standing. Actually, they have become an irreplaceable part of the team.)

How do you prepare for such an expedition? Did you have a special training or a change in diet?
Andrea:
We did spower and endurance training.
Mike:
My wife shooed me through the forest 3 times a week.
Andrea:
Yes that too. But we did also a lot of mountain tours, actually everything that had to do with endurance and lung training. At an altitude of almost 7,000 m, the air is very thin. In terms of nutrition, we have not changed anything, we eat according to the TCM.*

How long were you on the road in total?
Mike:
It was almost 7 weeks in total, the expedition itself about 6 weeks.
Andrea:
Unfortunately, despite my good condition, I had to stop after about 4 weeks, as I could not tolerate the altitude above 6100 m.

That's a long time. How do you regulate this with your work?
Andrea:
Partly I took unpaid leave, I was very frugal with vacation the year before looking ahead, but that was definitely worth it.
Mike:
I'm self-employed. I have an assistant and many partners who have arranged my work for me.
I pack my suitcase for the expedition... What do you take with you?
Andrea:
Underwear made of natural materials that last a long time from without being washed.
Mike:
…and best outdoor clothing available, you know (smile)
Andrea:
What do you want to do if you have washed clothes and you hang them up and 1 min later they are frozen. In addition, water is rationed up there.
Mike:
Good mountain boots, good thick jackets were also important the deepest Temperatures hold (min. – 30 degrees), caps, gloves, goggles against UV and the finest volcanic sand, which is almost always in the air and of course our Q-Jeans Outback Extreme. These have proven to be indispensable after the last expedition.

And then it finally starts?
Mike:
After Andrea's birthday breakfast we went to 3,500 m, where we had our first camp built, where we lived for the next two days.

Why two days?
Andrea:
If only because of the height adjustment. The body needs time to adapt to the height and the changed oxygen conditions. Unfortunately in high altitude, there are always mortal accidents because people underestimate the danger of low oxygen and dehydration.
Mike:
After three days we went on to the Laguna Verde. Everyone was looking forward to it.
Because it's so beautiful there?
Andrea:
Yes, definitely the most beautiful place of the expedition. A huge salt lake and at the camp there are volcanic hot pools, where you can heat up you cold bones. The Andes and especially the Atacama is a volcanic area.

Mike:
Unfortunately, there was almost always a very strong wind and the stay outdoors was usually not very pleasant.

Andrea:
Compared to 2017, it was just cold. 2017 was such nice weather and I also took a short bath in the cold Laguna, but not this time, that was too cold for me. But once in the warm pools had to be the last time washing with water for the next few weeks.
Washing the last time, how can you understand that?
Mike:
Yes, from Laguna Verde there were only wet wipes to clean the essentials...

Andrea:
At least the washing went quickly. Alexandra and I met 1 time to wash the hair, otherwise it did not work.

Why?
Andrea:
Well, first of all, there's just too much wind up there, you can't wash yourself like normal, especially not your hair. And in the cold, it's not fun either. Like doing laundry, everything freezes within seconds.

Mike:
And besides, we couldn't take so much water with us that it would be enough for the 5 weeks to wash and drink.

Body smells after a while?
Mike:
Bacteria have a really hard time in this climate, that's why you don't "smell bad". At first you miss showering, but at some point, you don't miss it anymore. Slowly but surely you get used to the conditions, it doesn't seem so bad. Only the volcanic sand penetrates into everything, but that's a matter of getting used to.
What does such a typical daily routine on the expedition look like?
Andrea:
Usually get up at 8 o'clock and have breakfast at 9 o'clock. There was warm cereal every morning, which is a boon at those temperatures. We still have fruits, nuts and seeds thrown in a pot, everything that is nutritious and gives strength.

Mike:
Then we prepared the trucks, or embarked on hikes. Alex and Andrea usually already prepared the meal and they discussed the planning for the next few days.

Andrea:
Oh yes, the very first thing in the morning was that Matthias and Alex came into the tent and inquired about our medical condition, measured blood pressure and oxygen saturation.

Mike:
Assessing the mental and physical state of the participants is important in order to recognize the first signs of altitude sickness - which is generally known to be fatal - but unfortunately is always underestimated.

Why hikes, didn't you want to drive the record?
Mike:
You have to slowly adapt to the altitude, the oxygen content becomes less and less the higher you get. It is not without reason that we have installed emergency radio units on the Ojos – too much has already happened for that reason.

Andrea:
Yes, we experienced such a situation too.

Did something happen to someone on your team?
Andrea:
Not from our team - Another team of two Canadians who were on the summit descended in the evening. One of them has been faster than the other was able to, but neglected his partner falling back.
Mike:
The other has lost his bearings. His partner was then with us in the camp and was extremely worried because his partner did not arrive.

Andrea:
We asked other camps via the radio system if the other person had appeared, but unfortunately that was not the case. Immediately Matthias and Alex started searching with their Landcruiser. After a long search, they found him disoriented and in mental and medically critical condition at an altitude of about 5700 m. He was given oxygen and brought to our camp. The next day they left for Copiapo. So everything went well for them, because of the commitment of expedition leader Matthias and his wife. Situations like this can turn out to be mortal within hours.
That sounds very dangerous! Do you have someone in the team with special medical training had it with you?
Andrea:
Matthias and Alex did a specific training at the mountain rescue service in Austria. Among so many things, this simply distinguishes Matthias as a perfectly prepared expedition leader.

Andrea, you are also itself Physiotherapist and alternative practitioner, that is certainly an advantage, isn't it?
Mike:
... and she is also a nurse, at least for me (smile).
Andrea (laughs lovingly):
Yes, Mike's full-time nurse. But that's right, especially if there were problems with back pain, I was able to support and treat well. Alex and Eberhard had back and shoulder pain. Also in 2017 I had real work to do. In 2017. Two disabled war veterans were on the team. Their participation impressed all of us very much. They needed medical attention and therapy, which I was able to give them. Everyone helps the other as best as you can.
The ability to work in a team is therefore a prerequisite for such an expedition...
Mike:
You have to be able to rely more or less blindly on the other. In addition, you spend 5 weeks 24/7 together.
Andrea:
Giving honest information about your own well-being is also very important. You endanger yourself and your team, if you are too proud be to say, when you have problems. We had already touched on the topic a bit, especially in the Andes, people underestimate the topic of altitude sickness.
You two are experienced expedition participants, what was new for you?
Mike:
Of course, this was a different experience with the 2 Unimogs after the MAN truck expedition.

Andrea:
It was exciting for me to bake bread successfully at an altitude of 5300 m. I am also a nutritionist and was able to contribute a lot. We even had a gas grill with us this time and we had a full-fledged BBQ in 2019. Not so in 2017.

Where did you reach your limits?
Mike:
The higher we got, I had to impose a stricter speed limit when walking. The lack of oxygen simply causes you more trouble than you want to admit.

Andrea:
For me, the limit was at 6100m, when my blood oxygen content was only 50%. That's when I received medical oxygen.

And you still went ahead?
Andrea:
I used up two cylinders of oxygen in one night. To be honest, I didn't have much say either. Matthias and Mike were too worried about my health. Matthias then decided for me from a medical point of view that I would be relegated.

Mike, did you stay with the team or did you get relegated with Andrea?
Mike:
I stayed up there.
Andrea:
Mike stayed with the team with a heavy heart.
Mike:
Of course, it was not easy to let Andrea go, but of course we had already agreed before the expedition what we would do in such a case. I also as one of the drivers of one of the Unimogs. I also wanted to finally set the world record. I don't like to do things halfway, I also co-sponsored the expedition with my two companies.
What were the special experiences for you on the expedition?
Mike:
The great, diverse landscape in the Andes. But of course, also the exhilarating sense of achievement of having broken a world record.
Andrea:
I celebrated my birthday on the expedition. My huge bouquet of flowers, which I received, was even allowed to go with me and had its own place in the Unimog.
What was it like for your family and friends that you go so far away on a not entirely harmless expedition?
Andrea:
Mikes and my parents are over 90, so of course we had to plan ahead for all eventualities. We had a satellite phone for contact for emergencies, so there was actually always contact.
Mike:
And most of our friends have similar interests. They were happy for us and enthusiastic. As they were also friends of my parents, they visited and supported them during our absence.
Would you go along again?
Andrea:
: Not really. It was a great experience, but we still want to go on other trips and adventure tours and are used to carrying out our trips and expeditions ourselves.

Mike:
I also praise our Toyota Landcruiser converted into an expedition vehicle, I don't have to have 5 weeks in the tent at my age anymore. The first action after a long shower and enough sleep at home was to sell off no longer needed expedition equipment.

Would you recommend others to put themselves in such extreme situations?
Mike:
Yes, definitely. Because you learn that your own limits are much further than you think. If you are inexperienced, however, you should join someone who has sufficient experience in such issues, such as .B. Matthias Jeschke.

Andrea:
The experience of expanding the self-imposed psychological and physical limits of one's own horizon has an aha effect with consequences. You want more...