Q-Jeans® Multipurpose Outdoor Knife QMPK 101
Q-Jeans® Multipurpose Outdoor Messer – the first of its kind
Name:
QMPK 101
Overall Length:
16,6 cm accessoires
Blade length:
6,5 cm
Weight:
60 g
Knife steel:
Sandvik 14C28N

The Q-Jeans® knife QMPK 101 is made of Sandvik 14C28N knife steel.
Sandvik 14C28N is the latest in knife steels in the Sandvik range. By optimizing the metallurgical composition, a high-quality knife steel has been created, which is characterized by excellent edge performance, high hardness and excellent corrosion resistance.
This new variety kind of steel has the highest achievable hardness to date without affecting the microstructure. Sharpening the blade is therefore easily possible. At the same time, the edge stability with regard to micro-machining and edge folding or rolling is also excellent.
The QMPK 101 Q-Jeans® Outdoor Knife is particularly suitable as an outdoor knife, pocket knife or hunting and fishing knife
Its practical and handy design enables the wide range of applications. Knives with an opening for the index finger have a much lower risk of injury, as slipping onto the blade is practically impossible. In addition, the knife can no longer slide out of the hand so easily.
Another advantage of the QMPK 101 Q-Jeans® outdoor knife is the shape and placement of the grip hole which makes it possible to wear gloves when working with the knife. In addition, the wrist does not have to be angled as much as with other knives when cutting. When not in use, the QMPK 101 is safely stored in the leather sheath. The scabbard can be attached to the belt with the carrying strap or fixed in the Q-Jeans® Outback series with the Velcro strap inside the right cargo pocket.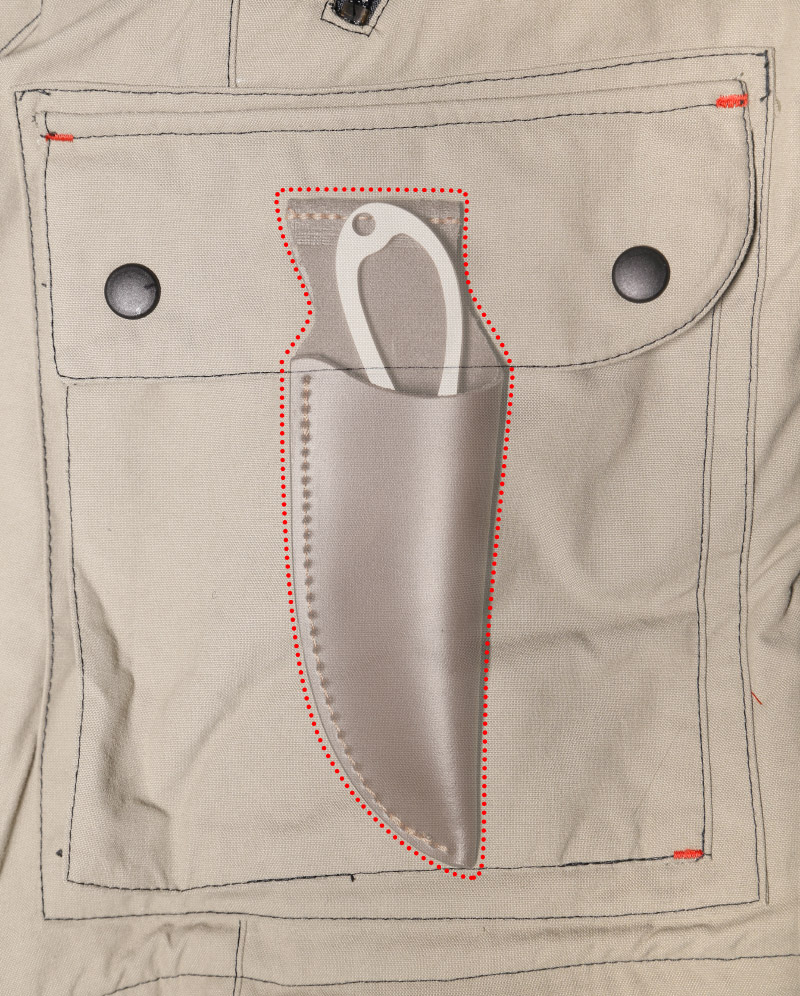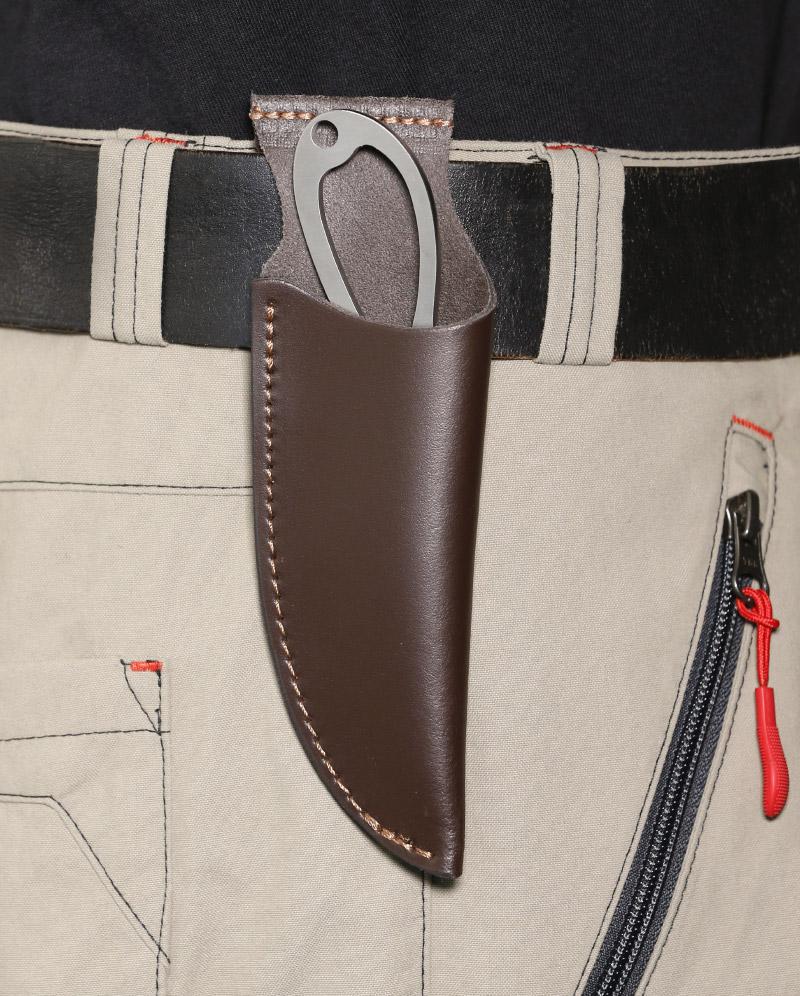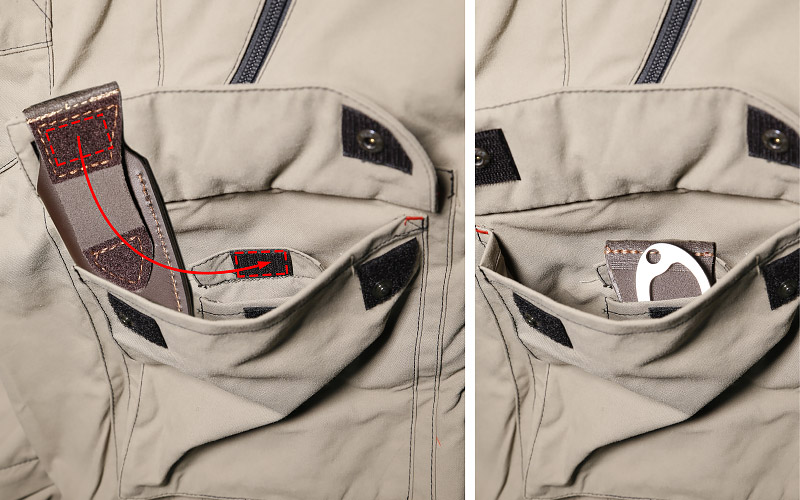 The design of the knife allows different holding options
1. Normal posture
Index finger through the elliptical opening (near the cutting edge)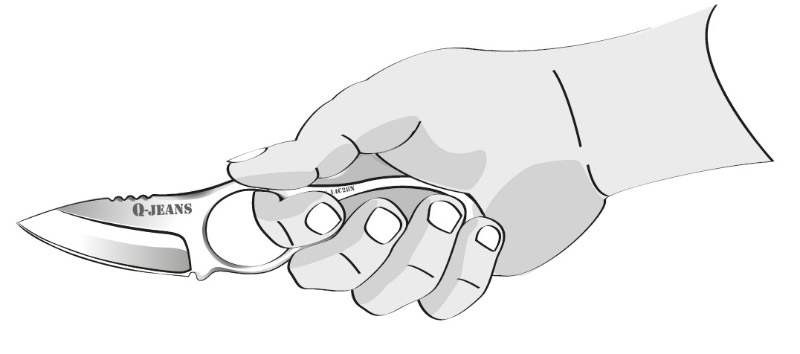 2. Pressure guidance (modification of the normal posture)
Middle finger through the gripper hole, index finger on the back of the blade and the corrugations. This minimizes the risk of slipping at higher pressure on the cutting edge.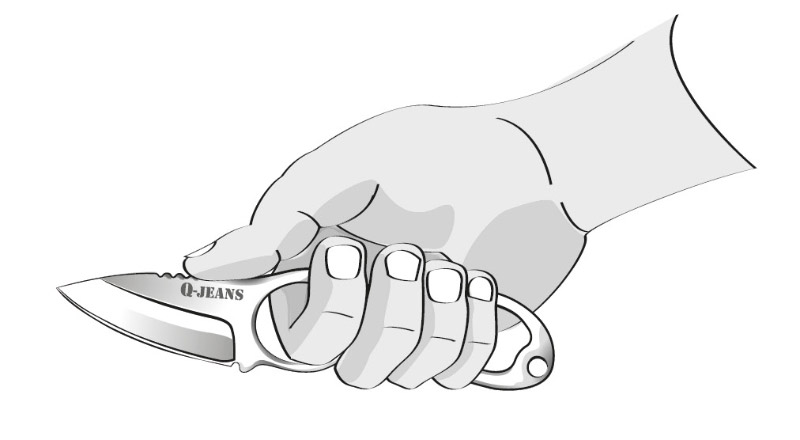 3. Tweezers keeping
Thumb and index finger through the handle opening, the other fingers on the side of the handle.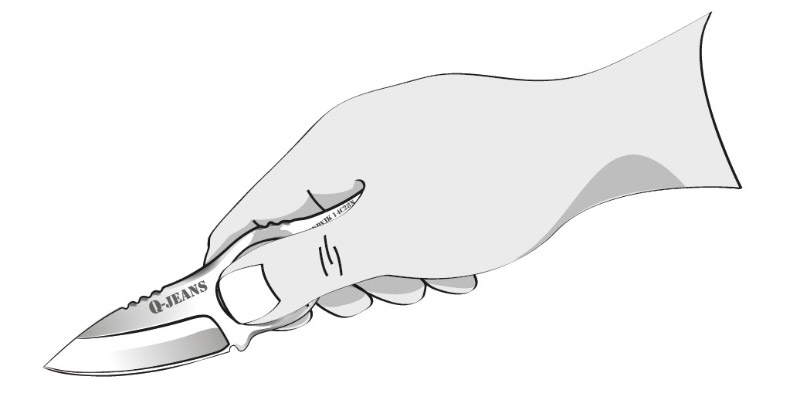 4. Pencil posture
The knife handle is located above the part between the thumb and index finger, the index finger is located on the corrugations from the back of the knife. (Allows for finer guiding during the cut)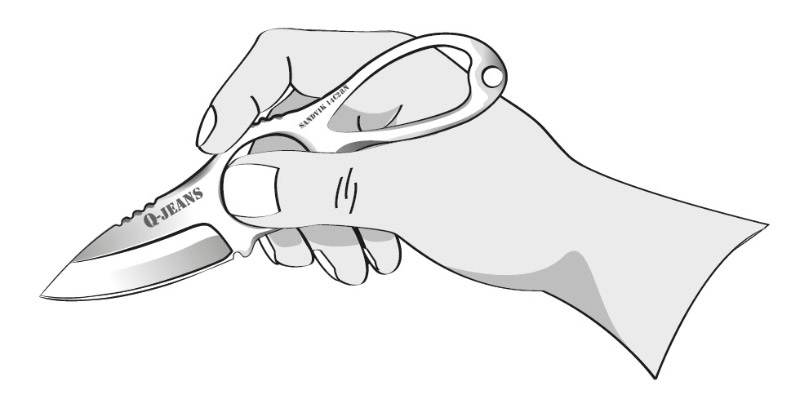 5. Carving posture
Cut away from the body, thumb and fingers completely around the handle. The small nose in front of or below the handle opening reduces slipping onto the cutting edge.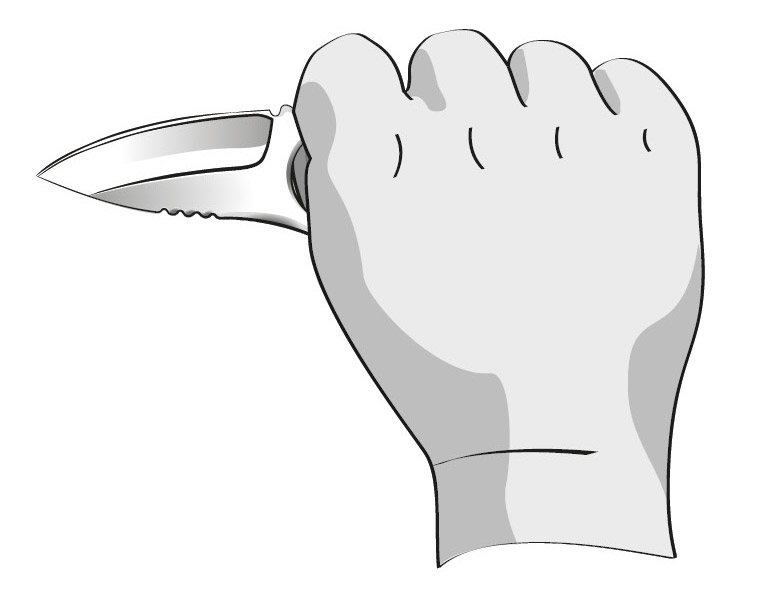 6. Schnitzhaltung (Abgewandelt)
In addition, thumbs on the corrugation from the back of the knife.